ARTICULATED MIXER WITH DOUBLE MIXING ARM – 15 T/H AND 3 T/H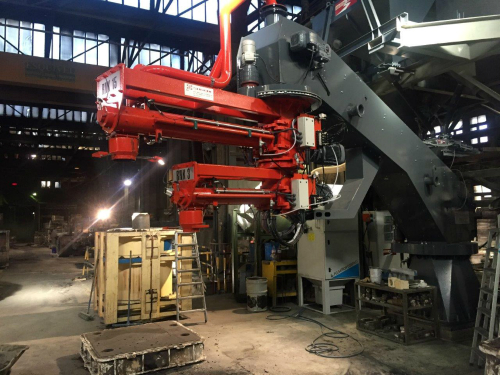 In August 2016, together with Funditec, its partner for Spanish market, Sogemi successfully commissioned an articulated mixer with double mixing arm for Alkaline-Phenolic process. The mixer was supplied to Suner Foundry in Spain, near Barcelona.
The mixer is equipped with a double mixing arm: the first one has an output of 15 t/h and blends silica as backing sand with additives , the second one has an output of 3 t/h and blends the chromite with the same chemical process.
With this solution, the customer can obtain a perfect blending of the sands with two very different mixing outputs. This is the ultimate solution for those foundries that use, in their molding process chromite as facing sand and silica sand as backing sand.
The mixer is also equipped with mass flow meters that check the exact quantity of additives dosed by the pumps, and adjust the pumps speed according to the quantity actually dosed.
Like in every Sogemi mixer, also in this one the mixing arms are equipped with additives recirculation system, electro pneumatic gate for the first sand homogenization and cleaning system.
The mixing arms' covers are equipped with wear-resistant protection shells.