About Us
Historical notes
Sogemi was founded in 1968 as a representative of Baker & Perkins, a British company with a division that produces foundry equipment and machines.
In 1976 Sogemi identifies rotating furnaces as the ideal means of casting for solving problems related to atmospheric emissions of pollutants resulting from the combustion process; that's why Sogemi begins to build cast iron rotary melting furnace.
In 1985 Sogemi begins working with French multinational company Air Liquide, a gas (oxygen, hydrogen, etc..) producer, for a scientific and technological development of oxy-combustion rotary furnaces.
In 1987, when the foundry division of Baker & Perkins closes, Sogemi acquires know-how and patents, and start building its own machinery and equipment for No-Bake moulding lines and sand regeneration plants.
Today Sogemi is one of the leading companies in national and international markets to supplying equipments for foundries using chemically bonded sands.
Company Profile
It's been more than 40 years since Sogemi started operating nationally and internationally, designing and building machinery and plants for second melting foundries: steel - cast iron and nonferrous metals.
Its presence in this field has been continually characterized by the pursuit of two specific goals:
development of new technologies with special attention to reclamation and recycling of materials with an eye on costs reducing;
attention to issues related to environmental ecology in compliance with current regulations, even the most restricted ones;
these principles have consistently led Sogemi in its activity, marked by so many achievements and many successes.
The consistency in pursuing the goals and cohesion of elements such as:
thorough knowledge of issues related to sand reclamation and regeneration;
extensive experience in the design and construction of "No-Bake" moulding lines;
proven knowledge of casting processes with Oxi-combustion rotary furnaces;
contribution of advanced technologies;
efficiency and reliability of plants;
competent and qualified technical advice;
after-sales service and supply of spare parts;
make Sogemi the ideal partner for foundries.
Headquarters
SOGEMI ENGINEERING's headquarters are in Milan where the offices are located on an area of over 1,000 square meters.
Here you will find:
general managing;
administration and finance department;
sales department;
production and purchasing department.
The headquarters have a technical department as well, modernly equipped, where all the engineering, machineries and equipments designing, researching activities and new products development are performed.
Also, Sogemi's offices in Milan have a warehouse where first need spare parts are stocked, this area is managed by a special spare parts department to meet customers' needs as quickly as possible.
Certifications
Certificate of quality management system certification UNI EN ISO 9001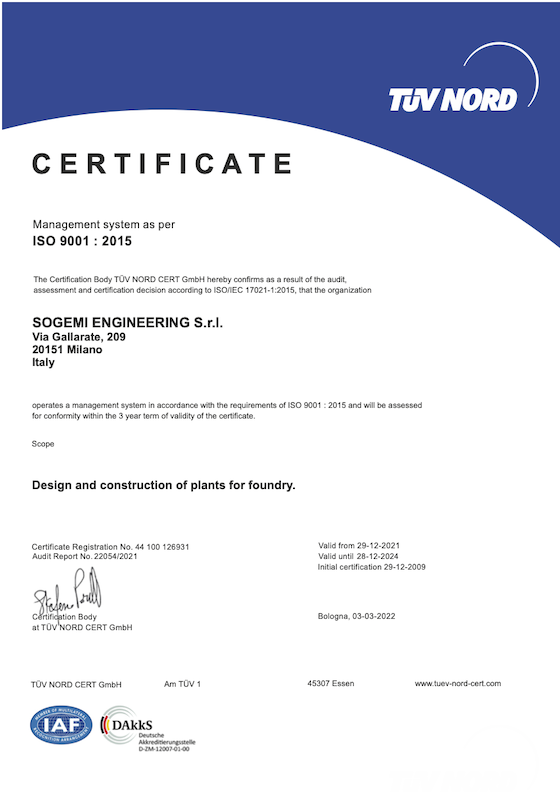 Download (PDF)